Staying mobile to help creativity flow
24
Sep
2010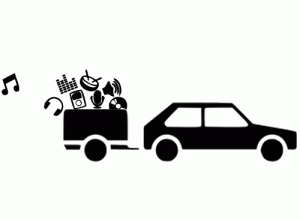 Before the decision to play live was made, I considered driving the sequences from a more powerful desktop workstation.
The reasons to use a desktop were there:- more CPU power & RAM, faster hard drive(s), better cooling, plenty of juice for the USB ports, and the ability to tuck the box away somewhere under a table.
I'm using an Edirol (now Roland) UA-101 as my main sound card & audio interface to manage ins, outs, click track & possibly some guitar effects routing.  It's a half-rack sized device, so I found myself thinking- am I really going to want to transport this thing around with a laptop when it's time to practice away from home?  Isn't that what small, lightweight Express Card or PCMCIA 'laptop' sound cards are for? In my mind the UA-101 was a heavy, desktop class item- not meant to be packed up and brought around.
That was my thinking then anyway- before I appreciated how productive a change of scenery could be when combined with a capable audio interface.  For the Xybots I am playing drums and singing.  When we practice in our usual  space I am behind the drum kit, which is located behind the PA/sub-woofer row- and there is a fair amount of distance between me and the musicians I'm playing with.
I recently packed up the core gear and headed to the guitarist's house: the laptop, the UA-101 sound card, a small amp, and a DD-55 drum pad .  The DD-55 is no longer manufactured, but can be had for reasonably cheap on Ebay.  It's internal sounds aren't half bad, and it's solid build, velocity sensitivity, and usable (if a little cheap) bass drum & hi-hat 'floor buttons' provide a way to play a live beat without lugging a real kit.
While it's true that I don't get 'out of the cave' as often as I should, whenever I do I'm reminded that sticking to the laptop as my central piece of gear is definitley the way to go- it allows me to 'bring the studio' to another location.
My initial thoughts about packing up the UA-101 being a 'hassle' were way off.  With it, we gained the ability to record guitar scratch tracks for review while mixing drums, vocals & guitar on the spot.  Everything but the DD-55 fit into a small, rolling carry-on bag.  Easy-peasy!